We're Back for a Green Lake Work Party Saturday morning March 13

Hello Stewards –
Happy March! Hope you're enjoying our spring weather!
We are having two work parties separated by 15 minutes again this month in order plant around 70 bare root plants, mulch and pull some ivy. Each work party is limited to five volunteers and will be Saturday, March 13th, from 9 am to 11am and 9:15 to 11:15.
If you arrive late, follow the Event signs to find the work site: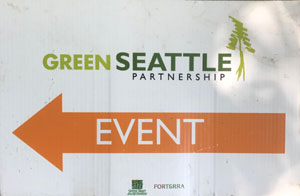 Date: March 13, 2021
Time: 9 am to 11 am or 9:15 to 11:15 am
Meet: Beside the Aqua Theater at the east end of the Small Craft Center (5900 West Green Lake Way North)
Dress for the weather and the dirty work, wear close-toed shoes and bring a bottle of water.
Questions? Dan Kujawinski at 773-629-2516 or danielkujawinski@gmail.com or
Our mailing address is:
greenlakestewards@gmail.com
Copyright © 2021 Green Lake Stewards, All rights reserved.