CANCELLED DUE TO ICY WEATHER – Program will be rescheduled for March 2011. Work party on Dec. 4 still a go.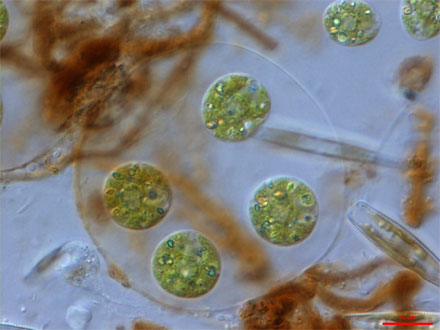 Green Lake got its name from its natural green color – the result of tiny free-floating algae plants in its water. Friends of Green Lake began as an appeal to the City to reduce algae growth in Green Lake after the King County-Seattle Bd of Health closed the Lake to all contact during the summers of 1999, 2002 and 2003. The Lake looked like split-pea soup and smelled like something dead and decaying. Many types of algae still grow in Green Lake, but are diminished since the 2004 alum treatment.
In 2008, FOGL received a grant from King County Waterworks to identify and count algae in samples collected along with the nutrient samples we take under the King County Small Lakes Stewardship Program. At the Nov 23rd meeting we will see photo-micrographs (photos taken through a microscope) of the various kinds of algae found in the 2008 samples collected by Gayle Garman and Richard Fleming.
Our speaker Karl Bruun, who grew up near 85th St and 1st Ave, and spent his childhood in and around Green Lake, has worked in the King County lab identifying algae for many years. An accomplished photographer of algae, his photos appear in a National Geographic Special called X-ray earth. Check out his award-winning images at www.nikonsmallworld.com
Program moved to March 2011 meeting