Join Us for the Annual Green Lake Milfoil Cleanup at 10 am Saturday, November 7

by Rob Zisette
Friends of Green Lake is currently working on three projects to benefit Green Lake and its users. Come to our meeting or click on the following projects to learn more about them.
Turtle Viewing Platform
Install a 12-feet-wide platform with railings of recycled composite materials that extend approximately 8 feet from the footpath towards the lake on the west shore near the turtle logs previously installed by FOGL volunteers. The platform would improve views of the turtle logs with ADA-compliant access and would reduce the shoreline erosion and vegetation disturbance currently caused by turtle log viewers. Click here to read more.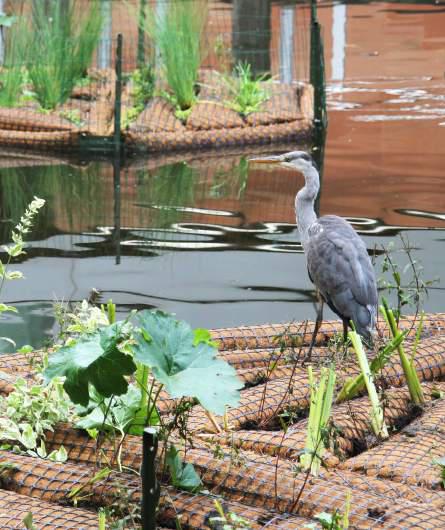 Floating Wetlands
Install two floating wetlands in shallow areas of the lake to provide native waterfowl habitat on the surface and fish habitat underneath, and to improve water quality by their nutrient uptake. Three alternative sites have been proposed with the preliminary design of each wetland to be approximately 66 feet long by 8 feet wide. Click here to read more.
Path Emergency Markers
Install small markers every 150 feet along the Green Lake footpath with unique numbers whose locations are registered with Seattle Emergency Services. The markers would greatly shorten 911 call response time from current locating problems associated with the lack of visible street signs or landmarks. Click here to read the emergency marker project document.
Secchi Depth: 2.2 meters, (7.2 feet)
Water Temp: 8.0 C, (46.4 F)
Lake Water Quality is monitored weekly by Jeffrey Howard at East Green Lake from the T-dock near the Green Lake Community Center. The weekly data are reported quarterly and uploaded to the King County Lakes website available here. Select "Green-1" and "View Data". General lake information, water quality data, and reports are available here.
For continuous Green Lake Water Level and Temperature Gauge data tracked by King County, go to the King County Hydrologic Information Center website where you can search for both temperature (in C) and lae elevation. Here are instructions:
1. Click on either Water Temperature or State Only Gage to get a map of monitoring sites.
2. Click on the red dot at Green Lake.
3. Click on View Graph. (The graph is currently being updated to improve visibility.) More data selections are listed left of the graph.
At the Friends of Green Lake (FOGL) meeting on January 26, 2016, FOGL was joined by several staff from the Seattle Department of Parks and Recreation (SDPR).  At the conclusion of the meeting it was suggested by SDPR that FOGL prepare a list of items we felt should be addressed in the Park.
The To Do List identifies issues or problems, provides location information if appropriate, and suggests possible corrective measures. Where possible, one or two photographs are included to illustrate the issue/problem.
FOGL hopes that the "To Do" List will stimulate discussions about the needs of Green Lake Park and we hope to participate in these discussions. We expect other Park users will join in these discussions.


YOU'RE INVITED!  PLEASE JOIN OUR ZOOM MEETING AT 7 PM TUESDAY December 1, 2020
AGENDA:
Water Quality Impacts of Homeless Encampments (Rob Zisette)
Milfoil Fall Beach Cleanup (Joe Markman)
Brazilian Elodea Invasion (Rob Zisette)
Floating Wetland Project (Rob Zisette)
Lake Water Quality Monitoring (Jeff Howard)
We hope to to see you after Thanksgiving, on Tuesday December 1, 2020!
Reminder – this meeting will be VIRTUAL – online via Zoom
To receive the access information for this meeting, you can join the Friends of Green Lake/Green Lake Community Council email list. If you wish, you can easily unsubscribe after the meeting.
We will also post the connection details here shortly before the meeting.

Zoom connect information will be posted here prior to the meeting on December 1, 2020.
Minutes for previous meetings are being posted in the blog, retroactively. Click here for a minutes-only archive.